Hollywood Glamour Photos and How To Take Them.

How to Make Hollywood Portraits
Be sure to check out the behind the scenes shots from this shoot, the link to that article is posted at the bottom of this article.
I'm asked all the time "How do you do that?", the style of Hollywood Glamour Photography I do. I had a great teacher, George Hurrell. Someone introduced me to the work of George Hurrell a while back, and so I Googled George and I fell in love with his work. Since then I have collected every book I can get my hands on about him and his work. I've got A LOT of  books about and by George Hurrell, and I have read every one of them. I've studied each picture, read each detail I could find about each picture, and George left excellent notes. One of the books went as far as to have the settings of the camera for each photo cataloged in the back index. What a great resource that is!
Rather than re-invent the wheel, I'm going to just name the one book I would suggest to anyone get who seriously wants to start learning how to do Hollywood Glamour Photography. The name of the book is "Hollywood Portraits : Classic Shots and How to Take Them.
" That's how I got started!
The most of the images in the book are from the Kobal Collection. John Kobal was the pre-eminent film historian and collector of Hollywood film photography. If one gets a chance to see part of his collection in a show or a museum gallery, it is awe inspiring. I've seen one in Santa Barbara and I was very moved, most likely because I am so into this style of photography.
The book describes each image, and then points out the telltale signs of how many lights there were used. Placement of the lights. Why they think there were this many lights and so on. They also have drawings to re-create the set and show how the lights and subject should be in placement. The book is where I got my start and is where I refer to again and again to remember how to look at the images I see and wonder "how did they do that". One thing, a great clue that I can give anyone is look at the shadows. The shadows tell all. Where the light came from and how many lights. Also look at the highlights in each image, they also reveal where or how many lights were used, but the shadows are better.
So if you really would like to get a head start in learning how to take Hollywood Glamour Photos Get this book, it will help you save hours of questions and searching. I mean it's a huge start.
Enjoy…
Darkman…
PS Below are a couple images from George Hurrell and a couple I did, that were similar.
Make-up by Marissa Freeman
The Behind the scenes shots from this shoot are HERE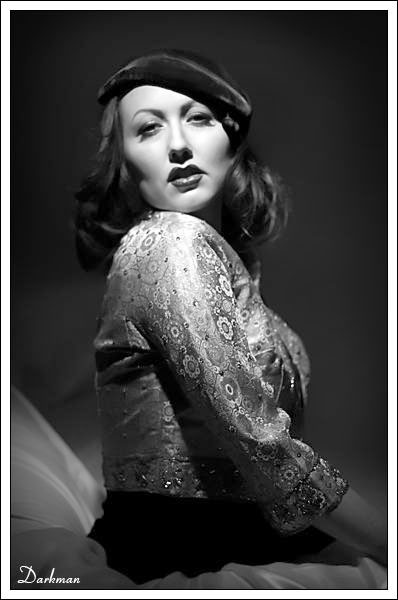 And as always if you enjoyed this  please share it…