10 Top Photography eBooks for $5, Spend Less Money, Improve Your Photography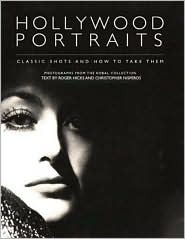 How to Make Hollywood Portraits
10 Top Photography eBooks to help improve your craft without spending money! These Photography eBooks from David duChemin, Andrew S. Gibson, Corwin Hiebert and Dave Delnea are meant to help the photographer improve their photography skills without spending money. The photographers use a minimal amount of gear on many shoots and they are sharing their photography secrets with all of us, and all for only $5 each.
I highly Recommend these eBook if you are looking for the easiest way to improve your photography without spending a ton of money on new equipment. They talk about Light Theory, Editing, Black and White and Color. If you are seriously looking for an inexpensive way to learn more about photography and some experienced guys who weigh in as champs, these are the guys.
These books are produced by Craft and Vision
#1 The Magic of Black and White – Part I – Vision – $5
Black and white photographs are a different medium than colour and require an ability to see in monochrome. Becoming aware of the differences between black and white and colour images, in both how they are seen and what makes a great black and white image, is the first step to capturing images that will work powerfully in monochrome.
The first in a planned two-volume set, Part One discusses what makes a great black and white photograph, what to look for when learning to see in monochrome, elements of a black and white image, and potential subjects for black and white photographs. Part Two will examine the means of creating the black and white image in the digital darkroom.
#2 The Magic of Black and White – Part II – Craft – $5
Part two of Andrew S. Gibson's, The Magic of Black and White series is about the craft of converting the captured image into black and white in the digital darkroom. Where Part One – Vision, looked at the process of seeing and capturing in monochrome, Part Two – Craft, looks at the tools needed to turn a colour digital negative into a spectacular-looking black and white image using the software of the digital darkroom, specifically Adobe Photoshop.
The Magic of Black and White, Part Two – Craft is a 51 page downloadable PDF. We've forced the layout into a landscape format to make viewing on the iPad even better. Using a good PDF reader like GoodReader, these PDF eBooks retain the rich layouts we've always created, as well as allowing non-iPad users the same great experience they've always had.
#3 Below the Horizon – Understanding Light at the Edges of Day – $5
BELOW THE HORIZON was written by a photographer whose commercial work includes some of the finest resort properties in the world. Dave Delnea's ability to see and capture the mood present in light at the edges of day have garnered him some exceptional clients and produced some amazing images. His secret is no secret at all; simply to understand and capture the light that is uniquely present when the sun is below the horizon and other photographers have put their cameras away.
Editor's Note: I am really excited about this book, not because it's full of secrets, it really isn't, but because it was reading the rough drafts for this book that inspired me on a recent trip to Kenya to shoot images I am more excited about than I have been in a long time. The inspiration to go out and shoot in the exceptional edge of day light has re-ignited an excitement I'd lost in the busyness of being a working photographer. Highly recommended! (David duChemin, Vancouver 2010)
10 Things a Manager Can Teach You About Running & Growing Your Business – $5
Corwin Hiebert is David duChemin's secret weapon these days. A powerhouse of practical advice and know-how, he's been managing David's nuts and bolts so well we asked him to put some of it in writing. It's not sexy stuff, it's down and dirty day-to-day make-yer-business run better kind of stuff.
Whether your running a studio business or looking down the pipe at becoming a working photographer, it pays to learn management details not from a photographer, but from an accomplished manager who really gets it.
#5 The Inspired Eye I – Notes on Creativity for Photographers, Vol.I – $5
Understanding and nurturing our creativity is the first step in breaking out of our ruts. The Inspired Eye, Vol.I, is the first of a two-part discussion about the nature of inspiration and the creative process as it relates to photographers. A vital creative life and an understanding of how our own process work is the greatest asset a photographer can have and precedes any of our work with the camera or in the digital darkroom.
#6 The Inspired Eye II – Notes on Creativity for Photographers, Vol.II – $5
The follow-up to the popular The Inspired Eye, Vol I, Volume 2 picks up where the first book left off and continues to explore the creative process for photographers. While less sexy than a new lens, understanding and working with your creative process is the core of what we do and will make your images more uniquely expressive. This is where vision begins.Volume 2 includes an interview about the creative process with Chris Orwig, author of Visual Poetry. All illustrations are from David's own work chasing his muse, with film for the first time in 10 years.
#7 Chasing The Look – 10 Ways to Improve The Aesthetics of Your Photographs – $5
CHASING THE LOOK is about making intentional choices about the use of our gear and the settings on our cameras based on their aesthetic effect. It begins to answer the question we all ask at some point while looking at the images of others – "How come my photographs don't look like that?"  While part of that question is answered simply, that we all have different vision and therefore different images, part of it must also be that we are not paying enough attention to the look each decision brings to the final image. Chasing The Look walks you through those elements and encourages you to begin thinking aesthetically and not merely technically.
#8 Drawing The Eye – Creating Stronger Images Through Visual Mass – $5
Drawing The Eye is about understanding and using the ways in which the eye reads a photograph in order to create more powerful images, and it'll change the way you look at your craft. Broken into 4 parts, Drawing The Eye looks at this concept of visual mass, or visual pull, in concept, in camera, in post-processing, and then through creative exercises related to each of these sections.
Don't let the egghead title fool you, this is not academia; it's a real-world discussion about making images that are more powerful because they're made with a fuller understanding of where the eye moves in an image, and how that understanding can change the way you shoot and process your images.
#9 TEN – Ten Ways To Improve Your Craft. None of Them Involves Buying Gear – $5
TEN was David duChemin's first eBook and still the most popular by a landslide. The premise is simple, if photographers could cut through the noise and work on their craft without being bombarded with the need to buy more gear, and the newest and shiniest, we'd become better at our craft and create more compelling images. TEN is exactly what it says it is, an exploration of ten techniques and ideas that can improve any photographer's work.
TEN was written in response to the question, "so where do I go from here, once I've learned how to use my camera?" TEN responds to that and gives you ten solid steps to take on your photographic journey, each with accompanying creative exercises, and none of them asking you to buy new gear.
#10 TEN MORE – Ten More Ways To Improve Your Craft – $5
TEN MORE is the follow-up to TEN and picks up where TEN left off. The question it addresses is still the same—how can I improve my photography without spending a pile of cash on big lenses and the latest must-have widget? This is a short-course in taking your photography and can be read as a companion book to TEN, or on it's own.
How was this post? Good? Bad? Or?
Please leave a comment below!
---
Check out the list of recommended
Hollywood Glamour Photography
Books and Videos Here
---
---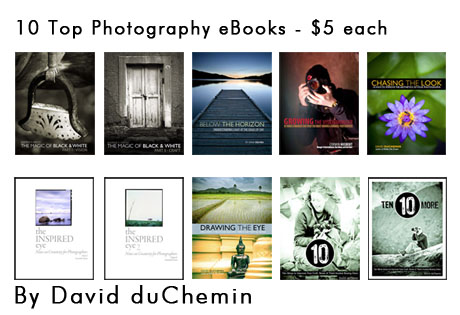 Click here to visit craftandvision.com - David duChemin.